Hey guys!
I was tagged by Adam @ Write Thoughts for this award! Thanks so much, Adam! His blog has a multitude of literary content, from book reviews to tips for beginner writers. I highly recommend that you guys check out his blog.
Rules:
Put the award logo on your blog
Thank the people who nominated you, linking to their blogs
Answer 7 questions asked by the person who nominated you
Nominate any number of bloggers you like, linking to their blogs
Let them know you nominated them (by commenting on their blog, etc)
Ask your nominees 7 questions
Questions:
1. What is your favourite scene(s) from a book / movie / comic / any other media?
Okay, this is a tough one. I have so many but I'll state a few off the top of my head:
I once read a book on wattpad about a guy who is the prince of hell and there's a scene where he's on his throne solving/answering queries from his people (demons…) and a little kid asks him if he could get his autograph. LOL. This cracked me up!! Like, the entire setting is just ridiculous & hilarious.
The scene in Illuminae by Amie Kaufman, Jay Kristoff where Ezra & Kady are giving interviews and they both have different interpretations of what happened with Ezra turning on the radio.
When Daenerys is a total badass here: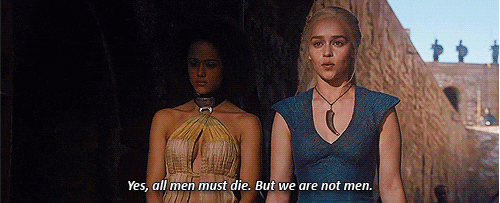 The scene in New Girl when Winston says this as he hold a bright yellow sponge in his hands: 'I am Thor. This is my Hammer, Mjolnir'. Oh, my God, I died!! Maybe, it's because I'm a HUGEEE Thor fan but the way he said it made me laugh so hard.
Speaking of which, the classic 'ANOTHER' scene from the first Thor movie tho.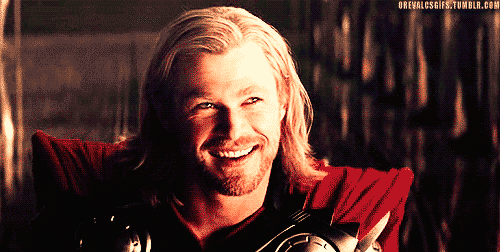 I can keep going but I'm gonna stop here…
2. Which character (from any media) would you be best friends with?
Ummm, I mean, I would like to think I can be bffs with Loki? Let's be real here, he'd most likely kill me…
3. What makes you feel strong, or strong in who you are?
Hope for a better a future. Its what drives me and keeps me going.
4. What are some of your favorite foods (excluding deserts/sweets)?
Haleem, always. It's a south-asian savory dish thats made with meat and lentils. It's so good, you guys! Also, fries. Great, now I'm hungry. Oh and lasagne too.
5. If you could give your past-self one message, one sentence, what would that message be?
You're not fat!!
6. After writing, what is one of your deepest passions?
Reading? 😛 But literary stuff aside, cooking. I love putting on some good music as I cook food.
7. Would you rather have a party with dozens of friends, or an evening with your 2-3 closest?
An evening with close friends any time of the day. I absolutely hate being in large crowds!
Okay, those were some really fun questions to answer! Here are my nominees:
Please, feel free to tag yourself if you want to answer my questions:
One fictional character that you hate and why?
If you could have one superpower, what would it be?
Marvel or DC?
Pretzels or bagels?
What is your go-to coffee order?
How did you decide that you'll be starting a blog on WordPress?
One movie that you can re-watch?
-Amna xx